We all want to commit to eating healthy foods, but don't you miss the sweet, salty, or spicy flavors of not-so-healthy' foods? Eating flavorful and savory foods can be done without compromising your healthy diet routine with the help of everything bagel seasoning.
What is Everything Bagel Seasoning?
Founded by David Gussin in 1980, the everything bagel seasoning is composed of different spices mixed together to form a flavorful seasoning that fits nearly every food. This seasoning is a mixture of:
Sesame seeds, both black and white
Poppy seeds are also part of this seasoning
Dry chopped-up minced garlic
Parched onions formed into flakes
Sea salt.
Many food gurus say that this seasoning is the most compatible with cream cheese. The
The seasoning can be found in different stores with different brands. Still, if you want to save less, you can also recreate it at home. A homemade everything bagel seasoning can be classified as a healthier and cheaper option. You can control the saltiness level of your seasoning based on your liking. Plus, you can also explore and add more flavor to your seasoning. You can put it into a jar or a small container, and you are ready to go.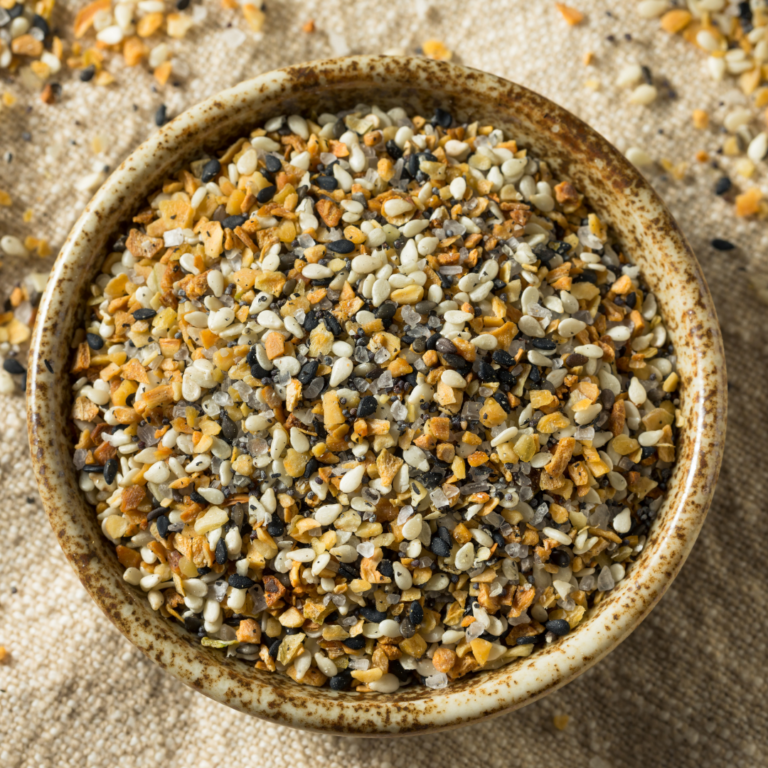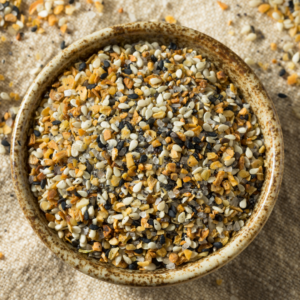 Now that you have brought or made your own, you might be wondering where to add or what to put everything bagel seasoning on? Below we list 25 foods that go great with the bagel seasoning. So without delay, let's get started!
25 Foods That Go Great With Everything Bagel Seasoning
Below are our favorite foods to sprinkle the seasoning on. Bon appetite 🙂
Check out more Food Lists from JarKitchen with 25 Foods That Start With L
1. Bagels
It is a no-brainer that everything bagel seasoning is made for bagels. This is the most basic use of seasoning. To make sure that your seasoning will stick, coat your bagel with a thin layer of water before putting it on, to ensure that the spices will stick together to the bagel.
2. Bread
Explore and spice up your taste buds by putting everything spices on any typical bread. Like in the bagel, you can also set a thin coating of egg wash. Toss it in the oven to make it crispier, and put the seasoning to make it more delicious to eat.
3. Hash Browns
Everything potatoes? What a perfect pairing, sign me up! Elevate your potato game by sprinkling a dash of rich and flavorful seasoning. Make sure to remember this hack the next time you eat your favorite potato snack.
4. Roasted Turkey or Meat
To create a perfect chicken, it must be cooked in a proper amount of time, savory and flavorful to taste. Why not add the bagel seasoning in your next marination of turkey or chicken? Before putting your meat in the oven, make sure that you include everything bagel seasoning in the mixture recipe of your roasted meat.
5. Party Dip or any Sauce Dip
If you plan to level up your chips sauce dip, why not sprinkle some everything seasoning on it? This will make your dip more flavorful and fun to eat with everything seasoning. You can taste the mixture of different spices mixed up with your choice of sauce dip. Plus, you can have the crisp effect with this delicious bagel seasoning, sesame seeds, and poppy seeds.
6. Sunnyside or Scrambled Eggs
Make your mornings special and your eggs exciting by putting the spices on it. Turn your normal fried or scrambled eggs into a more delicious one by adding an additional flavor to them, thanks to everything bagel for making it happen.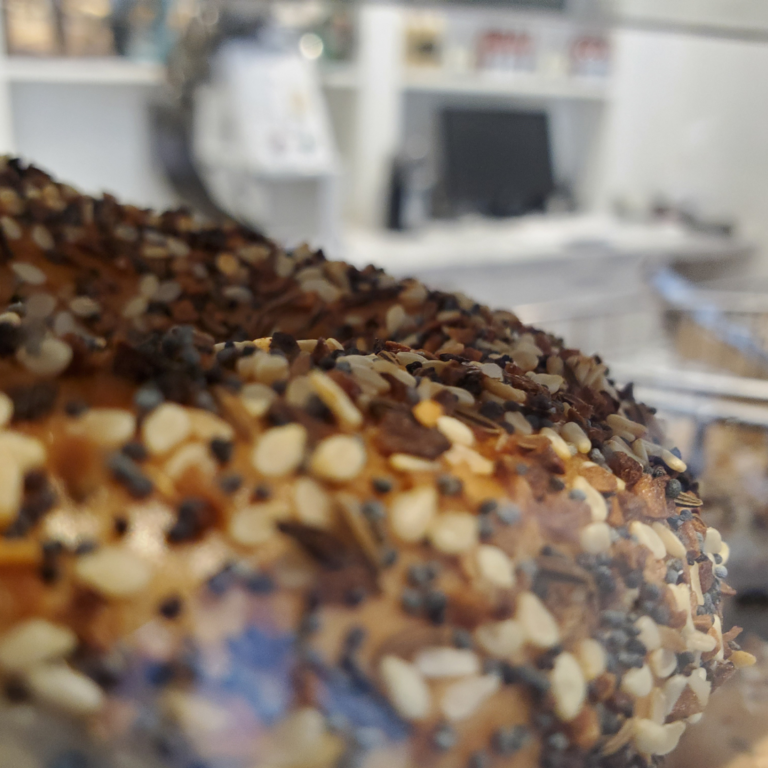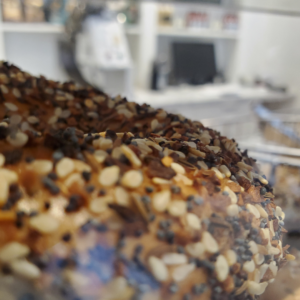 7. Avocado Toast
If fries have ketchup and pancakes have honey syrups, then avocado toast has everything seasoning. We all love avocado toast, especially when we put bagel seasoning on it! The mixture of different flavors is superb. You might as well try this delicious pairing that we suggest.
8. Salad
Tired of your dull and tasteless green salad? Why not put a dash of the seasoning on it and enjoy a healthy yet tasteful salad. By placing everything bagel seasoning on your salad, the peppery flavor will mix nicely with the salad dressing you have (especially if you use extra virgin olive oil and lemon juice, with a pinch of salt).
9. Popcorn
If you don't want another cheese or butter flavor, why not try to pop an the delicious bagel seasoning on your popcorn snack. This will give you and your tastebuds a new and exciting feeling.
10. Mac and Cheese
You can never go wrong with mac and cheese, but you would not regret it if you put everything seasoning on it. The next time you cook your favorite mac and cheese, don't forget to put everything seasoning on before adding your cheese.
11. Oats
Have trouble with what to eat for breakfast? Oats and overnight oats are the easiest ones to do in the morning. If you are tired of the regular oats you eat every day, why not spice things up and put an the bagel seasoning on it? It will add an extra flavor to your creamy oats. Try it for yourself.
12. Bloody Mary
Do you know that everything seasoning is not just for your snacks and meals? In fact, you can also put it in your liquor! Bloody Mary is a cocktail drink that everyone loves. Usually, they are putting salt in the glass rim, but why not try to put everything bagel seasoning instead of salt?
13. Tomato Juice
Another recipe drink that goes well with everything bagel seasoning is tomato juice. You can put everything spices on the glass rim like in the bloody mary.
14. Pizzas or Pizza Crust
We all love pizza! Regardless of its flavor, pizza is one of the go-to snacks that everyone would not resist. You can't say no to pizza, especially when an everything bagel seasoning is sprinkled on it. You can now also enjoy the flavorless pizza crust. Just put an everything bagel spices on it to make it flavorful.
15. Ramen
Ramen is one of the authentic Japanese cuisines. The rich in flavor broth is the one that gives life to it. However, we can spice the Ramen more by adding an everything bagel seasoning. With the chili effect of everything bagel seasoning, we are sure that you will enjoy the Ramen even more.
16. Stir Fry Recipe
Does your stir fry look dull, boring, and not exciting to eat? Add some spices or add the bagel seasoning to make it flavorful and tasty to eat.
17. Cream Cheese
Cream cheese and everything seasoning are among the most iconic pairing we know. Yes, everything goes with bagel seasoning, but cream cheese is the most appropriate. You can try it with a bagel, put cream cheese to it, and add the magical everything bagel spices to make it even better.
18. Grilled Cheese Sandwich
Who says no to a grilled cheese sandwich? We all love the go-to snack of a grilled cheese sandwich, but we love it even more if you put an everything bagel seasoning to it. You can sprinkle everything seasoning on a sandwich or on the crust to it, depending on your liking.
19. Butter or Olive Oil mix
Level up your butter or olive oil mix by adding an everything seasoning. The next time you coat your Bread or baguettes, put some everything bagel spices on the mixture to have a rich taste.
20. Cucumber
One of the healthy snacks that you can eat is cucumber. You can now enjoy your healthy snack with a new taste by adding everything bagel seasoning to it.
21. Pesto Pasta
To add flavor to your favorite pesto pasta recipe. Try to put a generous amount of everything seasoning into it to add more taste and spices to your pesto pasta.
22. Soup
Make your regular soup extraordinary with the bagel seasoning. This will put more flavor and kick on the soup that you like. You may try it with your tomato soup or squash soup.
23. Hamburgers
Instead of only sesame seeds, why not replace it with an everything seasoning. You can put it on top of your grilled buns and serve the burgers hot and juicy.
24. Boiled Eggs
Yes, you can also put some of our favorite bagel seasoning on hard-boiled eggs. With that, you can enjoy the perfect mixture of salty and garlic flavor over your hard-boiled eggs.
25. Chicken Tenders
Kids love chicken tenders, but instead of a breading mixture, try to be healthier and replace it with the bagel seasoning. You can also mix everything bagel seasoning on the chicken tender dip like honey mustard sauce.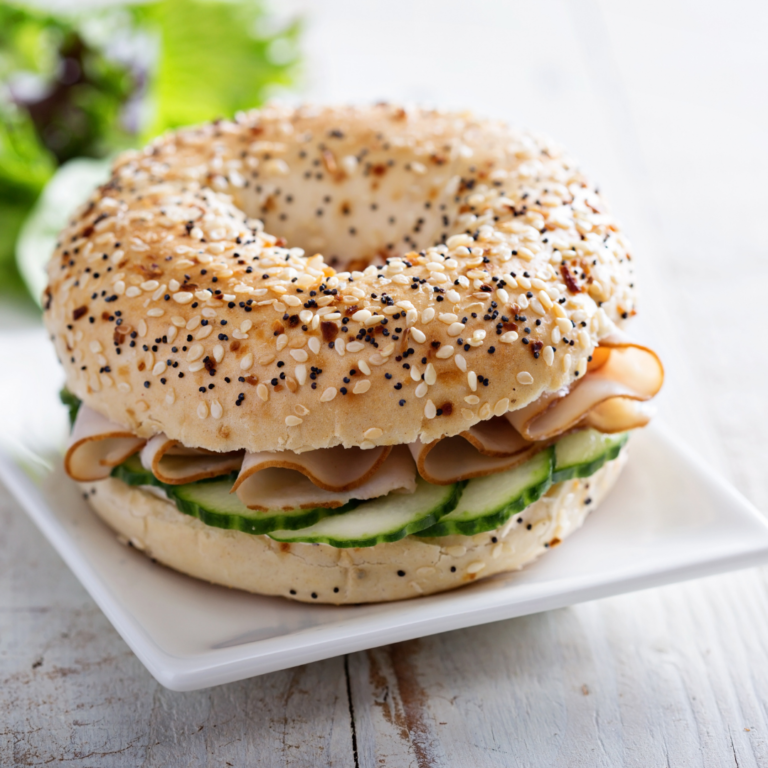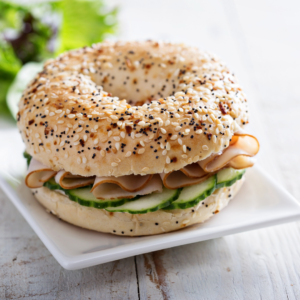 Now You Know What To Put Everything Bagel Seasoning On
There you have it, the list of what to put everything bagel seasoning on. There are still a lot of recipes that you can try, but we think that these are the best ones. Try it now and enjoy your everything seasoning!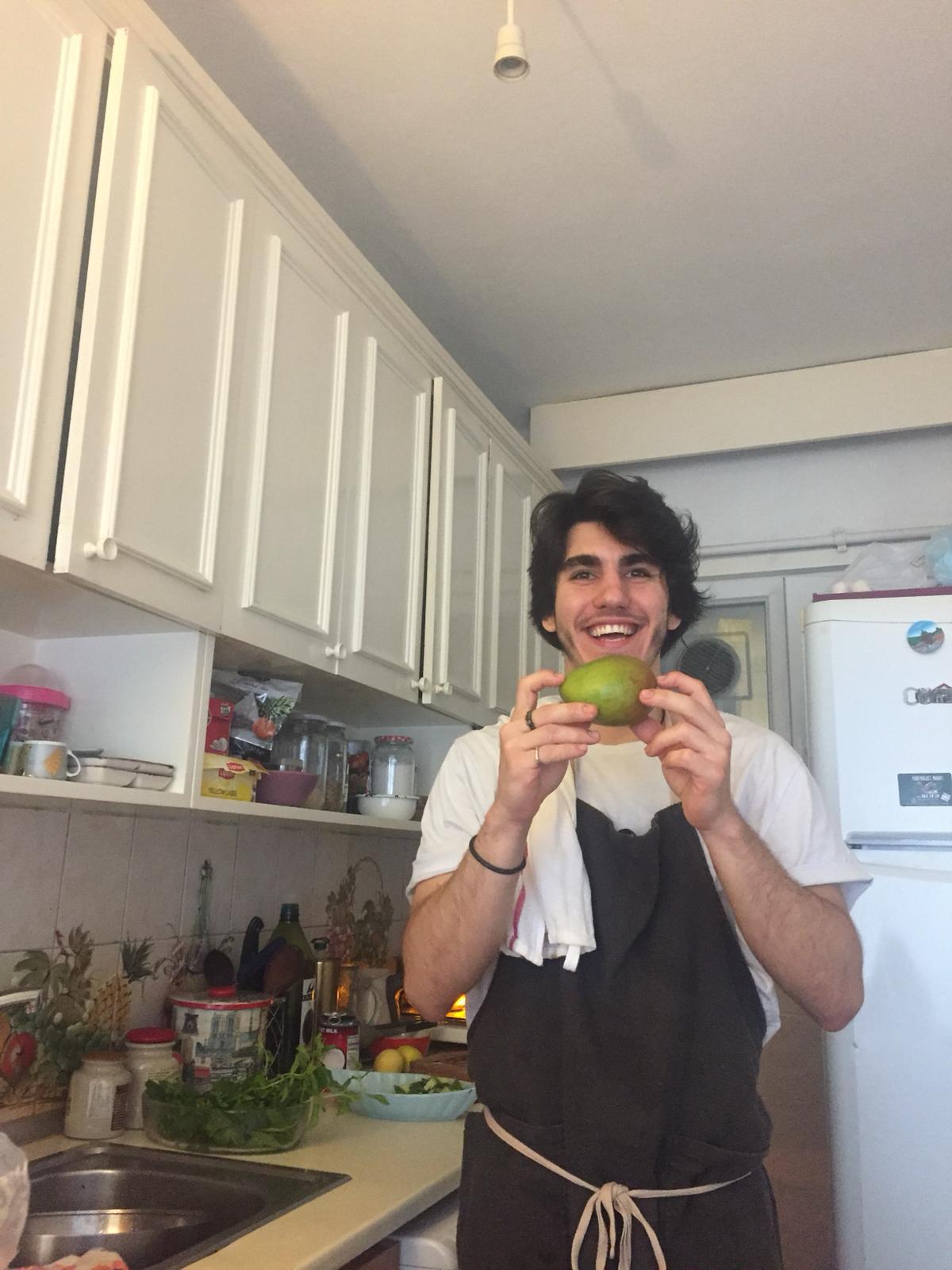 This is Pamir from the JarKitchen team. I am a chef who really likes cooking, learning, sharing. I believe cooking and eating is not just about flavor,flavor-matching, or need. It has a deeper meaning for me. At the end of the day, we are what we eat. Let's learn, cook, share, and evolve together.