When it comes to blenders, Vitamix is undoubtedly one of the most famous brands in the market. That is why they try to improve themselves by making better products every year. In this article, we will try to show you the differences between Vitamix 5200 vs 5300.
Both 5200 and 5300 are from the Classic blender family and they are an upgraded version of the Vitamix 5000. Although Vitamix 5200 has come out in October 2007, it is still popular for both home and commercial use. Once customers have had issues regarding Vitamix 5200, the company has made some enhancements and 5300 has come out eventually. Even if the upgraded version has come out, 5200 is still popular. So, we are here to show you the reasons why its popularity continues. If you have any doubts about which blender to use, you are in the right place.
Design
As the former product of its family, Vitamix 5200 has a bulky figure although 5300 is no smaller. With its 20.2" height, it becomes harder to place 5200 under the sink cabinet though. For this reason, Vitamix has solved this problem by minimizing the new model to 17.2". Vitamix 5300's wider container and compact design make it easier to store. Still, both Vitamix 5200 and 5300 are big blenders for a regular kitchen. But, they are a great choice if you live in a big family. With their 64 oz capacity, there is no need to use an extra container. Thanks to the metal and plastic build, both blenders are very durable.
While Vitamix 5300 has two color options (black and red) 5200 has three color options (black, red, and white). Because both blenders come only with one container, you can get an additional jar by buying from C-Series compatible jars.
Another difference between the two models is the size of the blades. Since Vitamix 5300 comes with a wider container, its blades are also larger than Vitamix 5200's blades. While 5300 has 4-inch blades, 5200 has the usual 3-inch blades. You may think that because of 5300's larger blades and wider size, small ingredients might not blend well. But, its powerful engine really helps with the process.
Performance – Vitamix 5200 vs 5300?
Being an upgraded version, 5300 has a 2.2-peak horsepower motor while 5200 has 2. With this difference, Vitamix 5300 becomes a home-use blender with the highest motor power in the Vitamix family. At the highest speed, 5300 is louder when we compare it to 5200 one due to its motor power.
While both blenders have 10-speed settings, the 'pulse' option in Vitamix 5300 moves it one step ahead of 5200. By using this button, you will not totally smash all the ingredients and give them a smooth texture but you can get the same effect by using the on/off switch in Vitamix 5200. But we are not responsible if you have a problem with using that switch too much. 🙂
Even if Vitamix 5300 seems superior to 5200 in terms of performance, it doesn't seem to be impressive for the users. Having no presets or programs make both blenders inferior compared to other models, for instance.
Capabilities
What can you expect from a blender? Durability, power, and bigger portions are what you can get from those two blenders. Besides, you can use both blenders to chop, grind, blend, and shred your ingredients as well. But, because they have a big container, you might need to use tamper while cooking smaller ingredients. If you're an almond butter lover like me, it will only take 3 minutes to make one. The texture will be the same no matter which blender you use. However, the difference is obvious when you try to make a smoothie. What irritates me most about a smoothie is little chunky stuff coming to my mouth. So, you might have this issue with Vitamix 5300 because it has a wider container. 5200's smaller but taller container enables you to make a well-blended smoothie.
Let's say you want to make crushed ice with your blender. Vitamix 5300's pulse function will be very helpful to make a quick and smooth crushed ice at this point. Otherwise, you will need to keep pushing the on/off switch of Vitamix 5200. And, you will need to put lesser ice cubes at the beginning to make sure the whole ingredient will become smooth. it will only take about 30 seconds with 5300 to make crushed ice while it takes around 2~3 minutes with 5200.
In other words, a narrow container might be helpful to get a smoother texture because the ingredients are closer to the blades. But, 5300's horsepower motor and pulse function will be helpful to crush stiff ingredients easily.
Cleaning
Both Vitamix 5300 and Vitamix 5200 have non-removable blades. That is why it is easier to use the self-cleaning option. For the self-cleaning option, rinse your Vitamix and fill half with water. Then, add two little drops of dish soap and run it at the lowest speed. Using the highest speed for a minute, let your Vitamix clean itself. If you have any concerns, you can handwash your Vitamix as well. But we do not recommend you to use a dishwasher to clean it.
Warranty
Being a part of the Classic blender family, both blenders have 7-year warranty. If that doesn't satify you, it is possible to get an extra 3-year warranty from Vitamix's website.
Price
As you can guess, newer products are always more expensive. No matter which color you have chosen, the price doesn't change for both blenders. But, 5300 is more pricy than the 5200 one. If you are on a tight budget, 5200 could be a better choice for you.
To make it easier for you to think, there is a comparison table for these blenders.
| | | |
| --- | --- | --- |
|   | Vitamix 5200 (Check the best price on Amazon) | Vitamix 5300 (Check the best price on Amazon) |
| Watt | 1380W | 1640W ✓ |
| Motor | 2.0 HP Motor | 2.2 HP Motor(highest one for home-use blenders) ✓ |
| Blades | 3-inch | 4-inch ✓ |
| Container | Narrow container(making it easier to blend everything) ✓ | Wider container (might be harder to blend everything) |
| Function | No pulse function or presets | Pulse function ✓ |
| Cleaning | Self-cleaning is possible ✓ | Self-cleaning is possible ✓ |
| Color | White, black and red colors are available ✓ | Black and red colors are available |
| Price | Less pricy ✓ | More expensive |
| Warranty | 7-year warranty (+3 year if you agree to pay) ✓ | 7-year warranty (+3 year if you agree to pay) ✓ |
| Capability | Takes a long time to crush stiff ingredients | Easily crushes anything with its powerful blades ✓ |
Conclusion: Vitamix 5200 vs 5300- Which One is the Winner?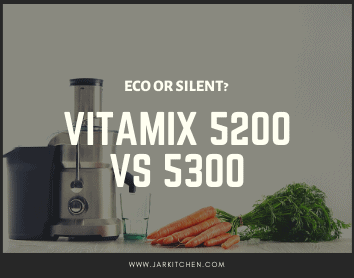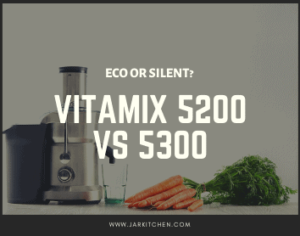 This is a question everyone will answer differently. As a single person living with a short budget, I would prefer 5200 but, that is not the only reason for me. I usually prefer starting my day with a smoothie and apparently, 5200 is a better option at this point. That was Vitamix 5200 vs 5300 compared for you. By the way, I strongly recommend you to check the best quiet blenders also if you like real silence in your kitchen.
If I live in a big family where children want to get everything as quickly as possible, my choice would be Vitamix 5300. With its killer power and 4-inch blades, it will surely prepare anything in a short time.
Now that you have learned about the basic qualities of both blenders, Vitamix 5200 vs 5300 take the best shot!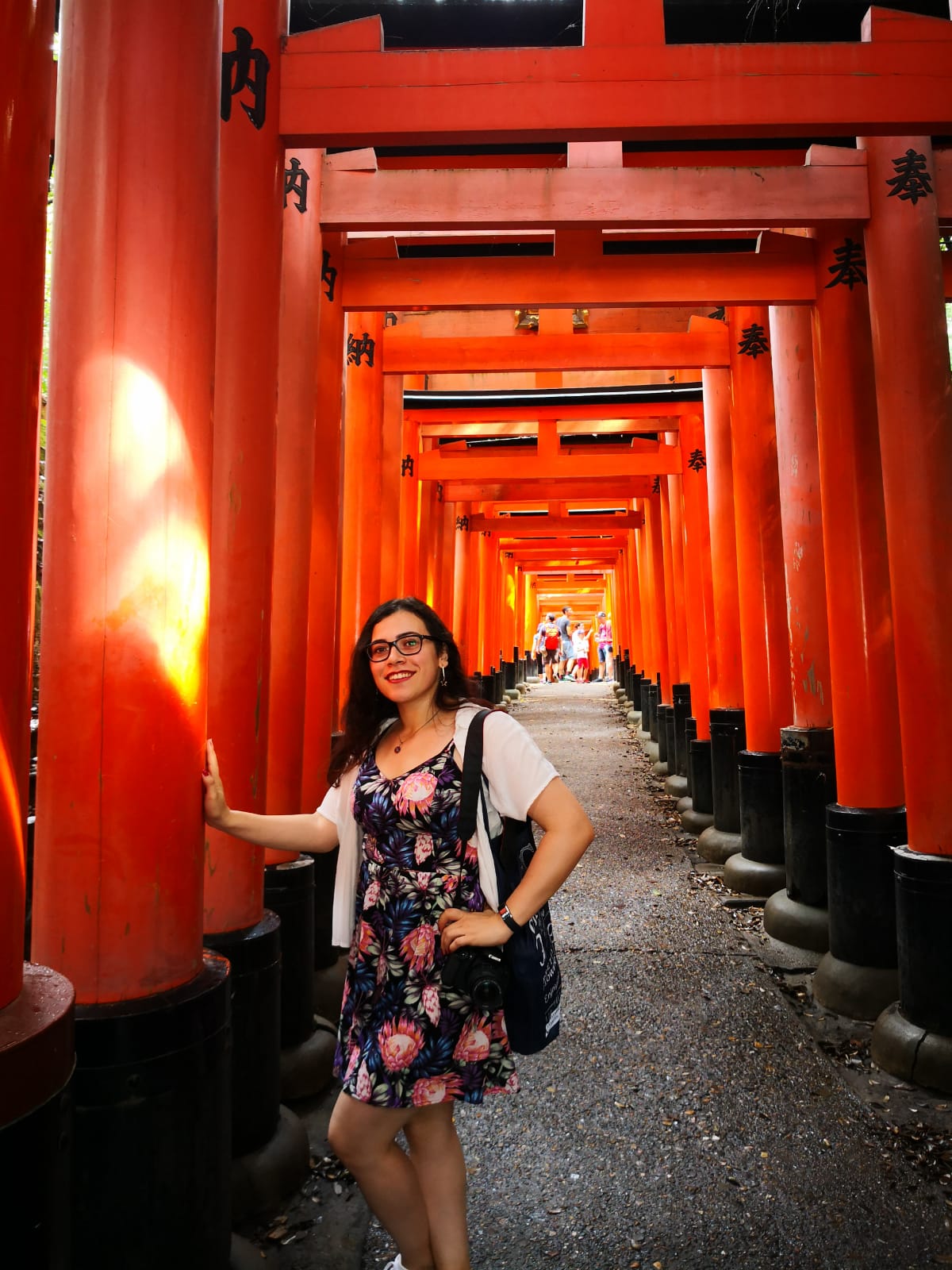 This is Merve from the JarKitchen Team. I am a freelance content specialist, and I like cooking different recipes in my free time. During the pandemic, I have had plenty of time to practice my cooking skills and cooking turned out to be a hobby for me.