Fresh Tomato and Basil Pizza Recipe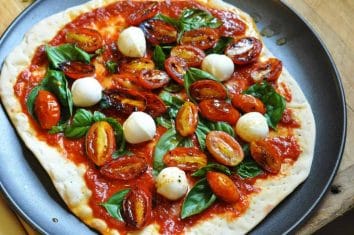 Ingredients:
1 (12-inch) Italian bread shell like Boboli
3 plum tomatoes, sliced
1 tbsp. olive oil
2 tbsps. shredded fresh basil
1/2 cup grated or shredded Parmesan cheese, divided
1/4 tsp. ground black pepper
Directions:
Oven should be preheated to about 450′ F. Lightly brush with some olive oil the Boboli shell and then sprinkle about 1/4 of a cup of the cheese on the crust. Layer the slices of tomatoes and then put the remainder of the parmesan. Sprinkle some pepper and then bake inside the oven for about 8 to 10 mins just until the cheese has melted and the crust has turned crisp. Put basil on top before you serve the pizzas.
Barbecue Chicken Pizza Recipe
Ingredients:
1 (12-inch) pre-baked pizza crust
1/2 cup hickory-flavored barbecue sauce
2 boneless, skinless chicken breast halves, sliced thin
1 med. red onion, peeled and thinly sliced
1/2 tsp. salt, divided
3 tbsps. cooking oil
1/4 tsp. black pepper, freshly ground
1 cup mushrooms, thinly sliced
2 cups smoked Gouda (grated) or mozzarella cheese (shredded)
Directions:
Preheat oven around 450′ F. With a heavy duty foil, cover a baking sheet and set aside. Wash the chicken then dry it out and season with 1/4 tsp. of salt & some pepper as well.
In a skillet, heat some oil over medium-high heat and then saute chicken for 2 mins. or just until the outside is not anymore pink.
Take out chicken slices from the pan using a slotted spoon. Add in mushrooms and onions on the pan and add the remaining salt then saute for 3 mins. or just until the onions are translucent.
Take the pan out of the heat and return the chicken back to the pan. Add in barbecue sauce to the pan too. Put the crust on the baking sheet and layer half of the cheese on the crust then top the chicken mixture.
Sprinkle the other half of the cheese then bake for about 10-12 mins. at around 450′ F or just until the cheese is melting and crust has turned crispy. Let cool for 3 mins. prior to cutting it. Serve while hot.
Pita Pesto Pizzas Recipe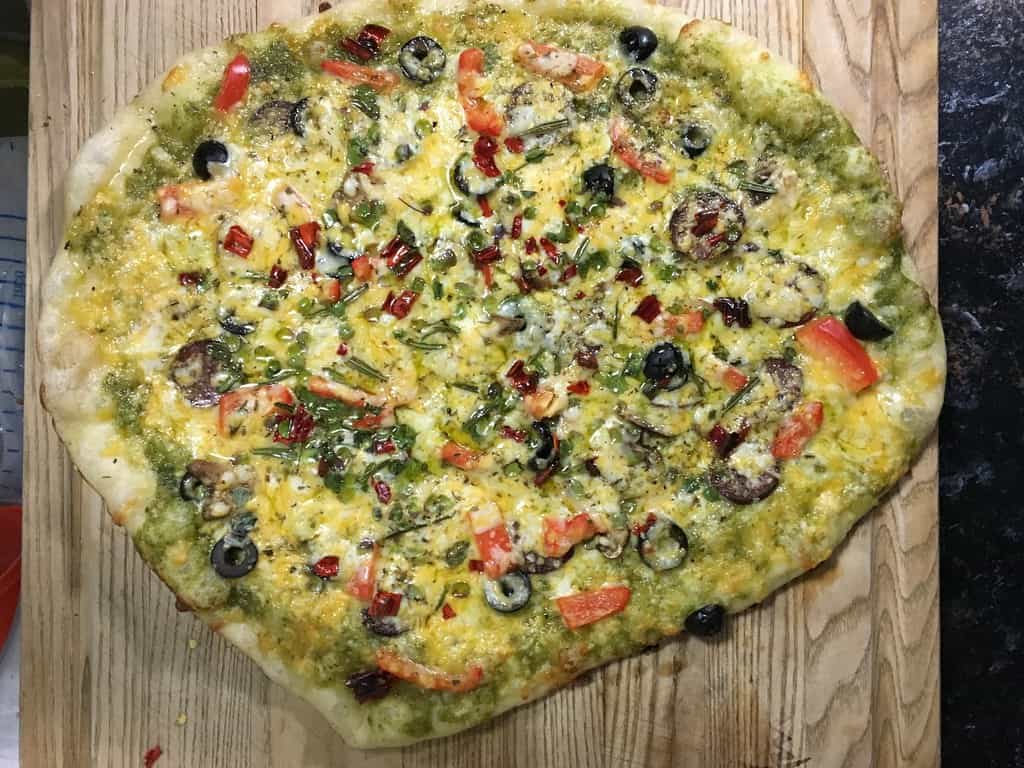 Ingredients:
2 (6-inch size) whole wheat pitas
4 cups torn spinach
2 cloves garlic
1 cup red bell pepper, chopped
1 tbsp. juice of a lemon
1/2 cup parsley parsley, packed lightly
1/2 cup parmesan, grated
1 1/2 tbsp. dried whole basil
1/2 cup part-skim mozzarella cheese, shredded
Directions:
In a food processor, chop up parsley and garlic for about 15 secs. or until it is minced. Next, add in parmesan, lemon juice, basil and spinach then process for another 30 secs. or just until the mixture is smooth.
Divide the pita's into four small circles and evenly spread about 2 tablespoons of the spinach mix on each individual pita.
Layer with the cheese and bell peppers. Bake in the oven for about 5 minutes at around 450′ F or just until the cheese has melted. Serve while hot.
Camper's Pizza Recipe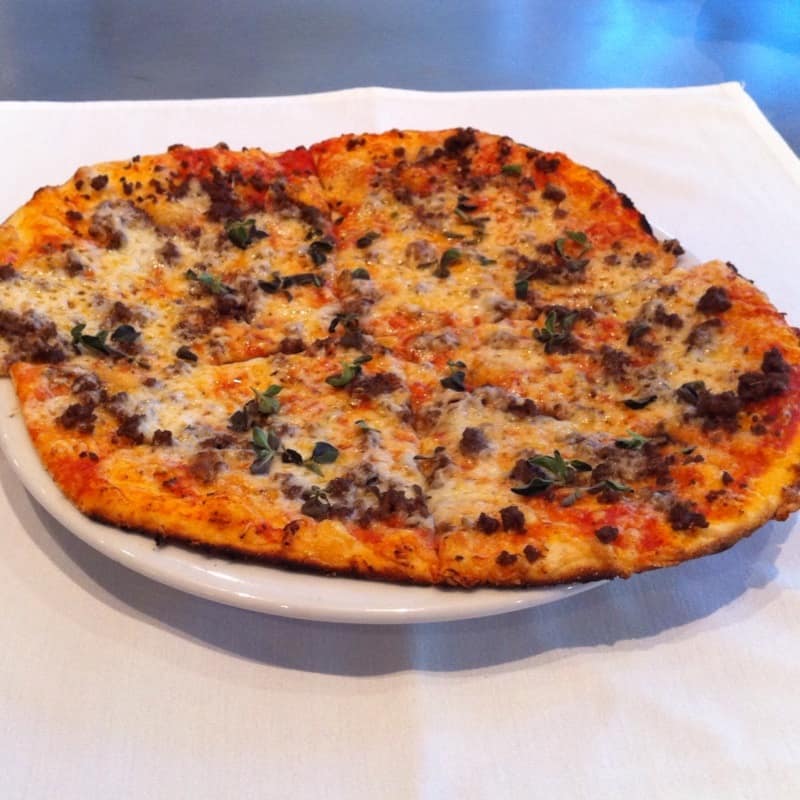 Ingredients:
12 ozs. ground beef, 80% lean
1 med. Onion, chopped
1/2 tsp. salt
8 ozs. refrigerated crescent rolls
8 ozs. pizza sauce
4 ozs. mushroom stems and pieces, drained and chopped
2 1/4 ozs. ripe olives, pitted and sliced
1/3 cup green bell pepper, coarsely chopped
4 ozs. shredded Mozzarella cheese
1 tsp. dried oregano leaves, crushed
Directions:
In an 11-12 inch skillet, cook the onions and beef on medium heat over coals until beef is not anymore pink. Stir occasionally so that the beef breaks up and is not lumpy. After beef has been cooked, drain them on paper towels and sprinkle some salt.
Then discard the beef drippings from the skillet. Separate the crescent rolls and form triangle like dough shapes and place these crescent rolls on the skillet.
Press the edges together and this will now form the bottom crust of your pizza and make sure that there is about 1 inch of the crescent rolls up the side to form the rim. Evenly distribute about half of your pizza sauce all over the crust and put the cooked beef over it.
Put bell pepper, mushrooms and olives on the top. Spread the remainder of the sauce all over and then sprinkle the oregano and cheese. Cook on medium heat coals and just place the skillet at the center of the grid.
Cover the cooker and cook for about 20-30 mins until the crust is browned lightly.
Seared Balsamic Mushroom Pizza Recipe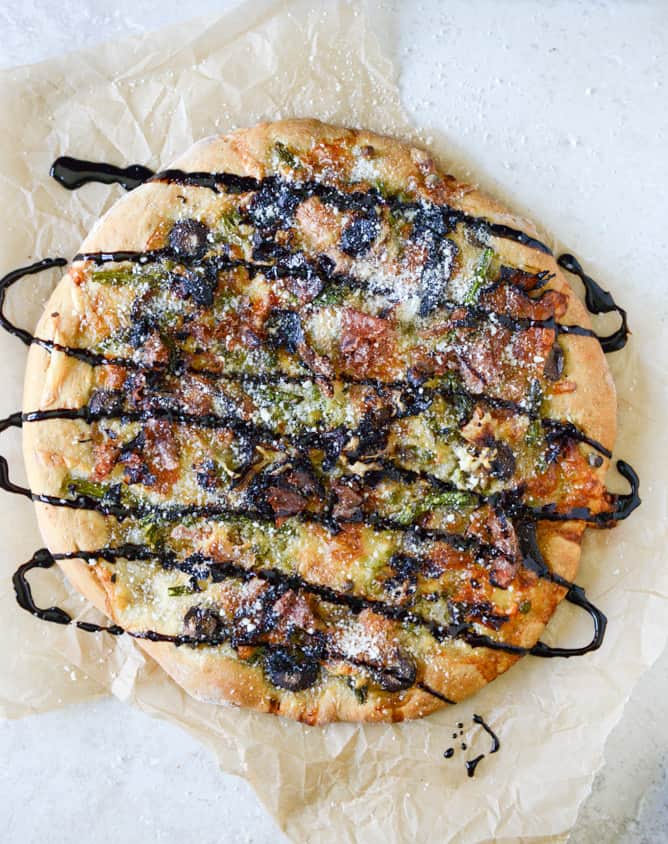 Ingredients:
2 small purchased baked pizza crusts (each 7″. in diameter)
1 cup mozzarella cheese, shredded
1/2 cup salmon, cooked and flaked
1/2 cup pizza sauce
1/4 cup red onion, chopped (optional)
Nonstick cooking spray
Directions:
Oven should be heated around 450′ F. On the purchased crusts of pizza, lightly spray with some of the nonstick cooking spray. Evenly spread out half of sauce on individual crusts.
Layer the flaked salmon, chopped onions and shredded cheese. Then bake in the oven for 8 to 10 mins. until the cheese bubbles and turns a light brown.
Bacon Onion & Tomato Pizza Recipe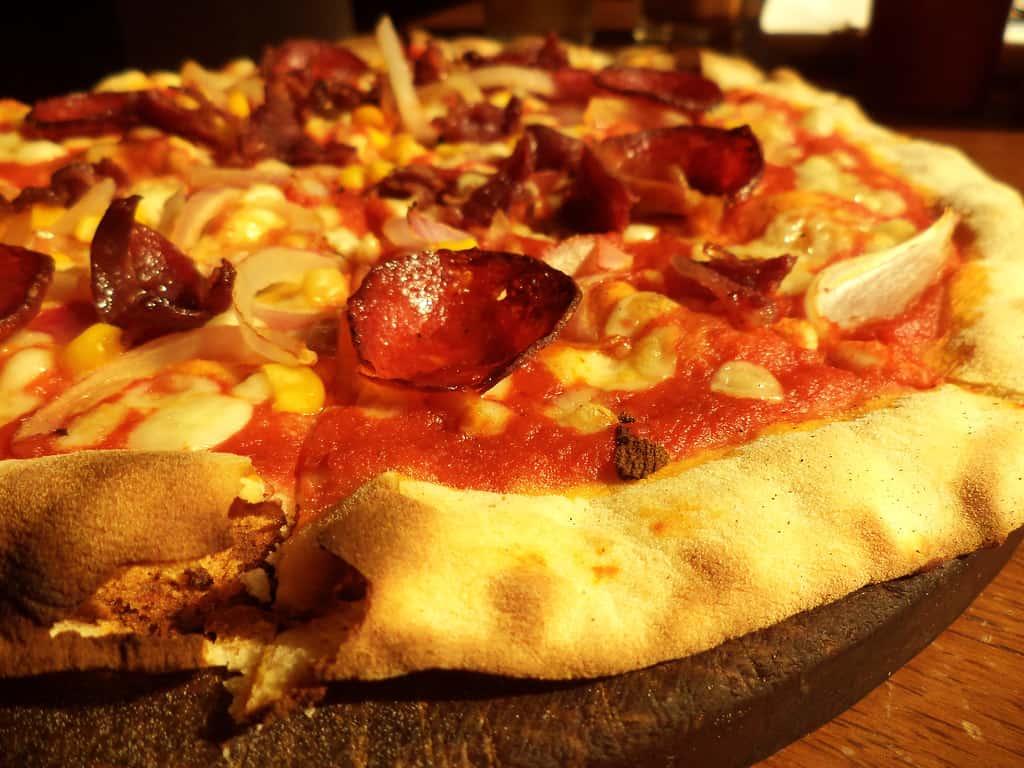 Ingredients:
1 tbsp. olive oil
1 tbsp. oil for brushing on pitas
2 cups sliced onions
Salt and pepper to taste
3 tbsps. brown sugar
4 Greek-style pita breads (at least 6 inches in diameter)
Garlic powder to taste
1/2 cup mozzarella cheese
2 large tomatoes, washed, sliced 1/4 inch thick, halved if desired
1 1/2 cup sliced fresh spinach, optional
8 slices cooked bacon, each slice cut in half, divided
1 cup of your favorite shredded strong-flavored cheese such as Asiago
Directions:
Preheat oven up to around 400′ F. In a pan over medium heat, put in 1 tbsp. oil. Add in onions that were sliced. Season it with pepper and salt. Cook onions until they become soft. This takes around 3-5 mins. Add in sugar. Continue with cooking your onions until they become golden brown.
When already golden brown in color, remove the pan from heat. Set it aside. On a baking sheet, place your pitas onto it and slightly brush the breads with oil. Then sprinkle some powdered garlic and put around 2 tbsps. of mozzarella. After putting the cheese on top, the softened onions go next.
Arrange some slices of tomato on top of each pita. You can also garnish the pitas with bits of spinach at its center. Then put 4 slices of bacon on top as well. Bake for about 8-10 mins inside your oven or just until tomatoes are soft.
Remove out of your oven. Sprinkle your breads with 1/4 cup cheese. Put it back in your oven. Then continue to cook in your oven until cheese has melted completely. Take out of your oven. Serve.